NEWS REFERENCES AND PRESENTATION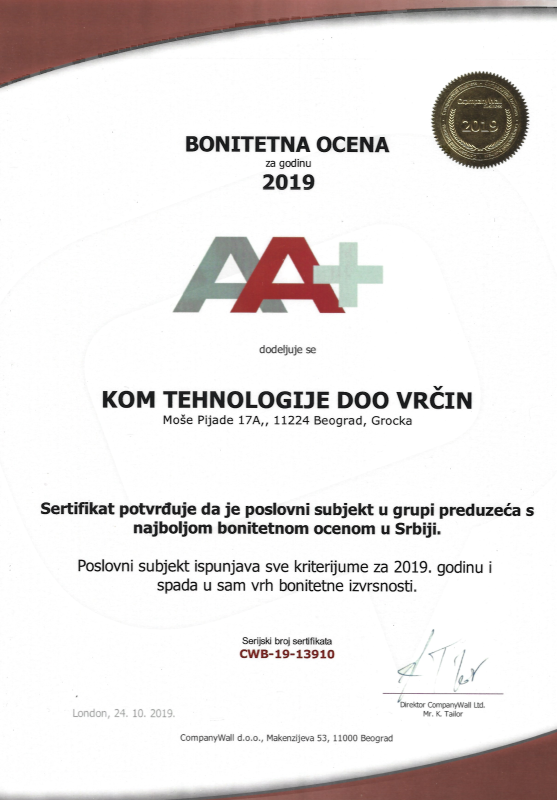 "...In the case of Kom Technologies large part of the business goes to project management, primarily in the automotive industry. This means that every project from large companies parse in order to see which part should use how many resources, where is necessary more testing, etc..."
Preduzetnik: oktobar 2014.
"...It is unacceptable that at a fair in Shanghai, where it appears 2400 companies and countries where Germany sends have countless delegation, our people do not have", says Mikulic. However, Serbia needs to know its place in the industry..." "...Thus, as the engineers made an extraordinary breakthrough in the work that was considered a privilege Americans, moved in elite circles, were friends of many important personalities..."

"...What kind of experts we are talking about, is best told by mentioning some of clients from their rich busines biography -Nortel, Hewlett Packard, Sun Microsystems, IBM, TV houses NBC, CBS..." Our newspapers especially refer to device PHANTOM, in wich realization they\B4ve helped, it is very precise instrument utilized even in medicine for complex brain surgeries.

Knowledge from software domain is using in the most various areas of human nfluence: medicine, space technologies, medias and recesently in lingvistics.

"...We are working on operation systems that provide significant development capabilities for different aplications. Systems that are used in different kind of industries, especially those which require processing of data or tasks in real time (medicine, military industry). Recently we were developing softvare for SONY systems utilized in broadcasting industry CBS, NBC...The Tablet on which we worked a few years ago, Microsoft is working on it now, and development team (in Belgrade) is formed. Some of stuff we were working on was presented on CNN, in review of tehnical achievments..."

Science report: Presentation of PHANTOM'S abilitiy.